from An American Childhood
...'That's marvelous,' Mother said. 'Terwilliger bunts one. No wonder you listen to baseball. Terwilliger bunts one.' For the next seven or eight years, Mother made this surprising string of syllables her own. Testing a microphone, she repeated, 'Terwilliger bunts one'; testing a pen or a typewriter, she wrote it…Whenever someone used a French phrase, or a Latin one, she answered solemnly, 'Terwilliger bunts one.' If Mother had had, like Andrew Carnegie, the opportunity to cook up a motto for a coat of arms, hers would have read simply and tellingly, 'Terwilliger bunts one.'...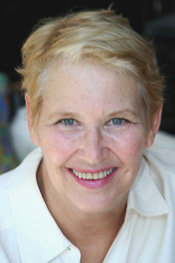 American nature writer, poet, and novelist. Born in Pittsburgh, Pennsylvania, Dillard received her B.A. and M.A. from Hollins College. Known both for her close observation of the natural world and her poet's sensibility, she has published books that range from the poetry of her first book, Tickets for a Prayer Wheel (1974), to the nature meditation Holy the Firm (1977), the memoir An American Childhood (1987), the literary theory in Living by Fiction (1982), the essay collection Teaching a Stone to Talk (1982), and the novels The Living (1992) and The Maytrees (2007). In her Pulitzer Prize– winning nonfiction narrative Pilgrim at Tinker Creek (1974), Dillard recounts years she spent living in seclusion in the natural world, much like Henry David Thoreau. In The Writing Life (1989) she muses on her life's work-to examine all things intensely and relentlessly. See also anniedillard.com.